Brochures for new students
In the brochures for new students you will find useful information for your preparation and the start of your studies at the University of Rostock as well as in the Hanseatic and University City of Rostock.
The brochures are aimed at new students in their first semester as well as new students coming to Rostock for their Masters.
In the brochures you will find information on the program in the introductory week, on the student councils, useful web links for starting your studies, a checklist for starting your studies, an overview of the rooms for the courses, information on creating the timetable, the study schedules, information on mentoring, User account, dates and deadlines as well as information on city and country and contact addresses for help in emergencies.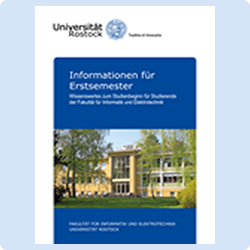 Information for students from Germany
Information for international students
In the brochures for new students, the "normal state" is shown with regard to the accessibility and opening times of the various contact points without corona-related restrictions. In connection with the corona pandemic, depending on the current situation, there are dynamic updates that cannot be shown in the printed brochures. Here are a few pointers.
Opening times and availability of contact points
Most of the contact points at the university and at the authorities have switched their contact options to e-mail and telephone and often also adjusted the opening times. Personal contact for matters that cannot be dealt with in any other way is usually only possible after prior consultation and appointment. Please refer to the website of the respective contact point for information on the current contact options and opening times.
Receipt of a chip card for printing / copying / scanning or building access
The receipt of a chip card for students and employees with a valid and activated user account at the University of Rostock can currently be requested online via the portal chkd.uni-rostock.de. The chip card will then be sent by post. Further information on chip cards can be found here.